Our Services Center operates 24x7
We work around the clock to ensure that the over 16 million square feet, approximately 300 buildings, and adjoining outdoor spaces that comprise the Morningside and Manhattanville campuses, Nevis Laboratories and Baker Athletics Complex, stay beautiful, functional and safe for the Columbia Community.
Learn more about our service areas below and visit the Services Center for a full list of all our services.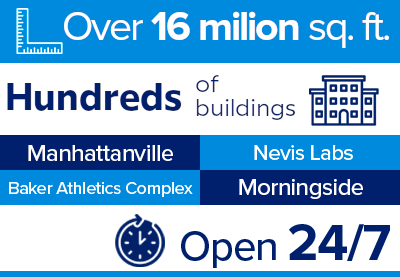 Key Service Areas
Our team provides a range of services across the categories below. Click on each to view specific services and learn more about how Operations keeps our campuses operational and beautiful and the Columbia Community safe.